Craig O'Donogue, The West Australian Newspaper – 21st May 2021
West Coast and Fremantle have been urged to treat interstate games as the most enjoyable part of their season instead of a daunting challenge in a bid to turn around their form outside of Western Australia.
The Dockers and Eagles have a combined 2-8 interstate record this season, and finding the solution to winning on the road has been an ongoing battle throughout their history.
West Coast coach Adam Simpson admitted his team had to own their interstate record after losing to Greater Western Sydney on Sunday.
Founder of mindset consultancy Quality Mind, and former Subiaco captain, Richard Maloney said developing a culture of interstate enjoyment — instead of being stuck in a repeated fight to produce their best away from home — was the best way forward.
"Practice loving your football," Maloney said.
"The leadership is the drive behind that. It's not bad having the losing streak because that can be the kick that you need. But make it fun. Don't make it the elephant in the room.
"They should celebrate having an uncertain fixture because that makes it more fun. The leaders should tell young players that travel makes them all tighter as a group. Look at the benefits, get excited and say 'we love traveling and are the best traveling team'.
"If you're beating yourself up throughout the week about playing in Adelaide or at the MCG, you know that mind chatter is burning them down. They don't realise it, but their energy cycles are depleting beyond belief and then they can't run out the game."
Maloney worked for the Western Bulldogs after captaining the Lions to the 2004 WAFL premiership. Quality Mind has expanded into 35 countries and has more than 2000 clients, including Geelong veteran Shaun Higgins.
He said triple Norm Smith medallist Dustin Martin's success showcased the benefits of living in the present.
Maloney warned worrying about past results was a recipe for disaster.
"You can overdrum it," he said.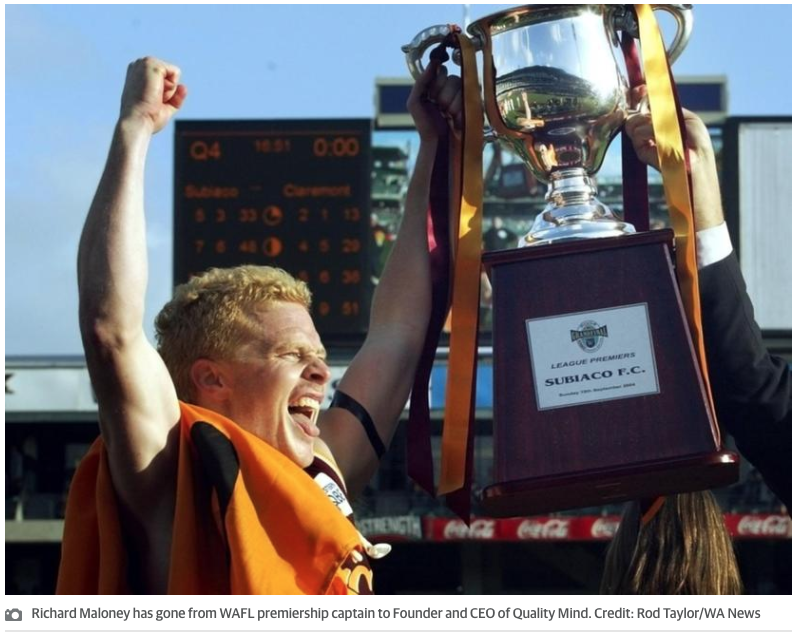 "You do need to use it as a bit of a whip and say we have to improve. But there are a lot of teams that worry that they're not good at playing away and that becomes the culture.
"It becomes a talking point. An athlete's best performance comes when they get into the now as quickly as possible.
"Everyone has their own mind-chat. If it's fear or worry about not bringing your best performance and you've got the lion's share of the group doing that, you can sense the energy of the group and that is called culture."